Hand Tool Headlines
The Woodworking Blogs Aggregator
An aggregate of many different woodworking blog feeds from across the 'net all in one place!  These are my favorite blogs that I read everyday...
Be sure to visit the Hand Tool Headlines section - scores of my favorite woodworking blogs in one place.  Also, take note of Norse Woodsmith's latest feature, an Online Store, which contains only products I personally recommend.  It is secure and safe, and is powered by Amazon.
The Saw Blog
All About Hand Saws, All the Time
Updated: 3 hours 27 min ago
Following my post about building your own saw, a couple of people asked about instruction. Here's one inquiry and my snarky, self-promoting response…
Andrew from Germany asked:
I have been considering making a back saw for some time, but have been a little intimidated by the process. Do you know of any good video resources or books that detail the process? I like videos for the simple fact that I am a visual learner.
Funny you should ask, but yes, I do know of a resource. Me!
I just completed filming two projects with Popular Woodworking Magazine, one of which is two hours of video instruction for an on-line class on how to build your own backsaw from the very kits I spoke of yesterday. In addition to the videos, students who sign up for class (hosted by PopWood, of course) will be able to ask questions and get assistance through live video interaction with yours truly, and post questions with other students in an online forum.
Class size is limited (to about 25 I think), but after the launch, anyone will be able to purchase/stream/download the videos anytime and build their saw. Plus, you can email me questions at your leisure.
The PopWood video team is editing the videos now, and we're negotiating a launch date for the class, but it looks like sometime in June. Stay tuned for more details.
-Matt
I remember years ago when I first started making saws and how hard it was to find parts. No one sold brass backs or saw hardware or saw plates. If you wanted to make a saw you had to fabricate the parts yourself, or scavenge them from old saws. And neither is too much fun when all you want to do is make a saw and not get an internship in a machine shop.
Fast forward to 2013 and the wonderful reality that is the 21st Century American Hand Tool Renaissance.
Thanks to a small number of enterprising people, and the growing demand to resurrect and revitalize our appreciation for meat powered tools, we now have several commercial sources of excellent quality parts and supplies for saw making.
I use parts from all of these suppliers and can personally vouch for every one. These are the same parts that I use every day in my shop. They ALL offer top quality and awesome customer service:
Saw Plates, templates, plans and more:   TGIAG.com
Complete saw kits, backs and fasteners:   BontzSawWorks.net
Saw Kits, split nut fasteners and driver bits:  ToolsForWorkingWood.com
Saw Fasteners, supplies and filing aides:  BlackburnTools.com
So what are you waiting for….get building!!!! Any schmuck can build a saw. Believe me….if I can make one, so can you.  And if you're a bit nervous about jumping into the whole project then you're in luck again, because I also teach a two-day class at the Connecticut Valley School of Woodworking on making a backsaw from rough components.
And starting with this next class in July, we are now offering students the option to choose the size of their saw! That's right…..thanks to Ron Bontz at Bontz Saw Works, students now order their saw kits directly. You can pick any saw you want, from a tiny 8 inch dovetail saw to a monster 18 inch tenon saw (though I recommend starting with the 12 inch backsaw kit). Let Ron know your preferences when you place your order. Then just bring the kit with you to class and I'll show you how to turn it into a top-notch tool. It's a blast. And you certainly don't have to take the class to buy a kit from Ron, or parts from any of the suppliers above.
Check out the details on the saw building class: Build a Backsaw July 20-21st
And just to make the whole experience a little more fun, I'll now be adding a 'Gallery' section on the blog to post pics of saws made by students, readers and fellow saw lovers.
So get building and keep in touch.
-Matt
My recent post about the carcase saw I built based on Joseph Smith's 'Key to the Manufactories of Sheffield' has generated a lot of comments, emails and questions, so I thought I would respond to some of them collectively and post the answers here for all others interested.
Here goes…
Q:  Besides the 12 in length, and 1/2″ cant you mentioned on the last post, do you mind giving the rest of the dimensions – i.e. the height of the blade and the thickness of the back at the the toe and at the the tote respectively? What thickness plate did you end up using?
A: The depth under the back tapers from about 2.5 inches down to just shy of 2 inches at the toe. The brass back is 1/4 of an inch thick and it tapers in depth from about 0.75 to about 0.50 inches along the length. The plate of the saw is 0.020 inches thick 1095 spring steel.
Q: Where did you get the materials for the saw?
A: The saw plate is from TGIAG.com, the brass back is from BontzSawWorks.net and the nuts are from ToolsForWorkingWood.com
Q: Is that a slotted back? How did you shape the back to make it look folded?
A: Yes, the back is slotted brass bar. I shaped the corners into smooth round-overs to appear like a traditional folded brass back. I used files and sandpaper for the shaping…brass is very easy to work with files.
Q: What is the tooth spacing? Rake? Fleam?
A: 14 points per inch filed with 10 degrees of rake and 10 degrees of fleam for ripping and crosscutting.
Q: What copy of 'Smith's Key' are you working from and where did you get it?
A: My copy is the 1975 EAIA reprint. I purchased it on Amazon and you can too…they aren't cheap, but worth every penny IMHO.
Q: Are you making this saw available for sale? Will you build one for me?
A: If you are interested in purchasing one of these saws, I am making a few of them for sale. Each saw will be one of a kind, custom made to order including tote sizing to the user and tooth spacing of your choice. This is not a "production saw"…they are made start to finish, one at a time. I don't "batch" parts. I have two orders now and will be taking a few more. Price is $400. For more details please email me at: matt@thesawwright.com
-Matt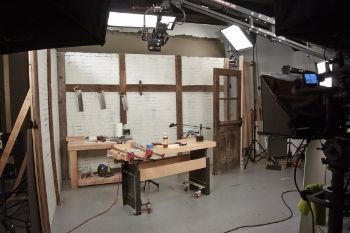 I just got home yesterday from a four day trip to Cincinnati where I was filming two very exciting projects with Popular Woodworking magazine. The first project is an instructional DVD tentatively titled 'Super Tune Your Backsaws', and the second project were video segments for a forthcoming on-line class on how to build your own backsaw. The former will be similar to Chris Schwarz's recent 'Super Tune a Handplane' but for an old backsaw and hosted by yours truly, and the latter will include 4 half-hour video segments available for download, plus live web-based interaction with myself and a forum for questions and discussion, all hosted by Pop Wood.
The whole experience was a total blast, and it was especially cool getting pampered by the awesome Pop Wood staff. I've struggled with what to write about the whole trip, as I've been a bit overwhelmed with positive emotions, so I've come up with a brief list of thoughts and insights. Here's some highlights on what I learned on my trip…
1. Cincinnati is a very unique city. They put chilli over spaghetti and eat it. On purpose. And they like it.
2. But they don't like pornography. Strange…
3. The Pop Wood office is not a cushy corporate environment. Its a converted old warehouse with more mice than people.
4. The mixed gender video crew likes off-color humor. The nut jokes alone could make a 45 minute gag reel.
5. Don't call Megan Fitzpatrick a tool collector. (Even though she has 4 dovetail saws)
6. Cincinnati is part of the South.
7. Cincinnati is part of the North.
8. Chris Schwarz likes to drive fast.
9. The Pop Wood workshop is best described as a cross between Hiroshima c. 1946 and the Bermuda Triangle.
10. I'm the luckiest SawWright in the world. I have no idea what possessed such a reputable group of woodworkers and writers to back a lame horse like mine, but I certainly enjoyed the hell out of myself.
For details on the coming DVD and info on the on-line class, stay tuned here.
-Matt
The last two weeks have been a bit of a blur (I was sick), but somewhere in the mix I managed to finally finish my carcase saw based on Joseph Smith's 'Key to the Manufactories of Sheffield', a work I have obsessed over for years thanks to its images of early 19th century handsaws.
The moment the wax was dry on the tote, I started grabbing anything and everything in my shop to try out the cut….scrap wood, electrical cords, small animals, even a vagrant that likes to hang out in my neighborhood and wanders into my shop occasionally….they all went under the teeth of my new saw to test its metal. And what fun I had!!!
This saw is simply amazing. The balance, the hang of the tote, the cut of the sash filed teeth (10 degrees of rake, 10 degrees of fleam, 14 ppi)…everything about this saw is perfect. This saw makes me want to sell every other backsaw in my shop and finally commit to saw monogamy. That's right….no more scurrying around hotel parking lots in the wee hours. No more hiding ATM receipts and credit card charges from my wife. And no more elaborate measures to cover up internet evidence of infidelity….I've finally found the perfect partner. And I owe it all to Joseph Smith.
If I were a saw maker, this is the saw I would build and put into the hands of every person crazy enough to buy one.
Perhaps the most striking thing about this saw is the tapering….both of the saw plate (meaning the cant) and of the brass back. In one of my previous posts about this project, Peddar (of Two Lawyers Toolworks) was astute enough to point out that not only the saw plate is tapered, but the back too. How strange that in all the years of staring at the image of this saw that I never noticed the taper on the back. I think I was so struck by the extreme cant of the plate that I overlooked the back. As soon as Peddar mentioned it, I smacked my self in the head and spent the following few hours cutting, filing, sanding, polishing and getting the taper of the back perfect. And what a difference! The reduction in weight is astounding and the balance of the saw is amazing….it has the mass in all the right spots and none of that toe-heaviness that makes backsaws so awkward to start. Simply awesome.
As I was busy crosscutting and ripping everything in my house to shreds, I was amazed at how refined I found the saw to be in use. I think we often make the mistake in thinking that something 200 years old has to be antiquated, or primitive, but quite the opposite seems to be true with the design of this saw. All of the lines and functional elements of this saw are completely harmonized and practical. I think this style of saw may have been the peak of backsaw evolution, and the tools that became common in the American saw boom were de-evolved and watered down copies of tools that were once perfect. I think many of us have seen evidence of this in other tool forms….mass production destroyed the perfection of many things. And this was one of the main reasons why I have wanted to make this saw for so long….it looked truly different from any other saw that I have ever seen or used and I wanted to find out why.
Even though I only got to use the saw for a couple of hours before I had to pack it up and ship it off to St. Louis (where I'm teaching a two-day saw making class) I clearly understand now that not only does it look different, but it IS different in every way. I have done a tremendous amount of research on old saws and compiled every scrap of information and evidence I have of how old saws were made and what they were like, both from books, articles, and others' research, and from original saws in my own collection, and poured it all into this carcase saw. The result, I am very happy to say is simply awesome. I'm blown away. I can't wait to bring the saw back home and use the hell out of it and continue to unlock its secrets.
And that's just the tip of the iceberg. Over the next year or so, I'm going to build a replica of every saw featured in Smith's Key. I can't wait to see what ole Joe show's me next. It's going to be a blast.
And if you'd like to build a backsaw of your own, I'm teaching another two-day saw making class this summer at the CT Valley School of Woodworking. Details and registration on  my website (TheSawWright.com) and at CT Valley School's site. This is the fourth time I've taught this class at CT Valley and it just keeps getting better.
-Matt
This week I finished up the back and plate for my new carcase saw based on Joseph Smith's 'Key' . The tote is all shaped as well and the linseed oil is drying. A couple coats of shellac and some tuning and filing and it'll be ready for the my meaty little hands.
I'm building this saw as a model for a two day saw building class that I'm teaching at the St. Louis Woodworker's Guild. It was a good motivator for me to build this saw, which I have fantasized about for years (What…You don't fantasize about saws too???). I've always wanted to replicate the form, but never found the time. I'm excited to run it through some wood.
I've got lots of other projects coming up to. A day after I get back from St. Louis, I'll be back on a plane and heading to  Cincinnati to work on some top secret projects that I'm so excited about, a little bit of pee squeezes out when I talk about it. More about that later. (The projects, not the pee)
Then in May I'll be at the EAIA annual meeting which I mentioned yesterday. After that I've got classes in saw sharpening and saw making at the CT Valley School of Woodworking in June and July, respectively.
But despite all of this craziness, its still a great time to send me a saw or two for filing and tuning up. My turn around time is at about 4 weeks or so right now. You can check out my rates for saw work at my website: TheSawWright.com
To inquire about saw sharpening services you can email me at: matt@thesawwright.com
This May I will be traveling to near-by Cape Cod to be a part of the Early American Industries Association's Annual Meeting. If you are not a member of the EAIA, then you should be. They are a wonderful group of men and women dedicated to preserving the tools, technology and skills of early American trades.
This year's annual meeting is sure to be one of the best yet, but not just because I'll be there demonstrating saw sharpening on Saturday May 18th, but because Chris Schwarz and Peter Follansbee will also be speaking and demonstrating. I'm incredibly honored to be a part of this years activities. I'm pulling out all the stops and will be filing up some classic American handsaws and might even bring some big cross-cut saws to saw my wife in half (if I can get her big pregnant belly in that damn wooden box). I'm also really looking forward to hearing Chris speak on Saturday the 18th about traditional tool chests. That's sure to be worth the trip alone.
On Thursday May 16th Peter will be demonstrating and speaking at Plimoth Plantaion where he chops wood day after day. If you've never gotten to visit this historic place and see Peter work, then you're missing out. I spent a day last January with Peter in his shop and met the carpenters and blacksmith who work on the Plantation….it was like Disneyland for big boys.
There's tons more scheduled too…..and that doesn't even include the usual hand tool revelry. The tailgating is second to none and there's a tool auction, tool trading, tool displays and tailgating. Did I mention tailgating? And tools? You can check out the full schedule and travel/hotel accommodations at the website. I could go on and on about how great this event is going to be (its EAIAs 80th anniversary, by the way) but you can read all about it on the web.
So come and meet Chris, Peter and some of the other crazy whack jobs like yourself who eat, sleep and breathe old tools and wood. I can't wait.
I hope to see you there.;)
-Matt